Kentucky Road Map
---
The scalable Kentucky map on this page shows the state's major roads and highways as well as its counties and cities, including Frankfort, the capital city, and Louisville, the most populous city.
Rural Road in Kentucky Horse Country, with Redbud in Bloom
Kentucky Map Navigation
To display the map in full-screen mode, click or touch the full screen button. To zoom in on the Kentucky state road map, click or touch the plus (+) button; to zoom out, click or touch the minus (-) button. To scroll or pan the zoomed-in map, either (1) use the scroll bars or (2) simply swipe or drag the map in any direction. (The scrolling or panning method you use will depend on your device and browser capabilities.) At any time, you can display the entire Kentucky road map in a new window or print this page, including the visible portion of the map.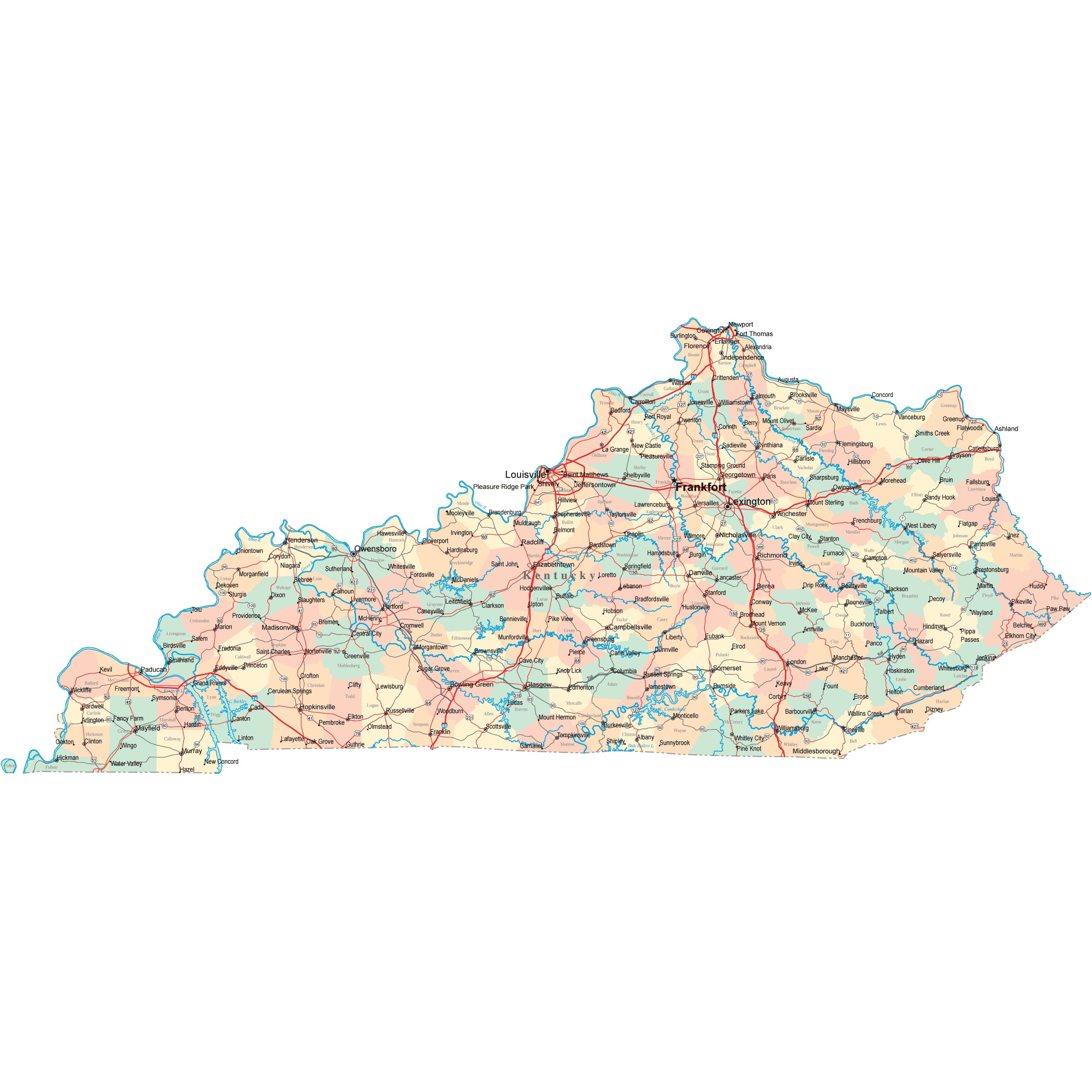 The following Map Legend and Scale of Miles apply to the road map on this page, at its largest displayed scale.
Kentucky Map Legend
Kentucky Map Scale Of Miles
Kentucky Interstate Highways
Kentucky's Interstate Highways connect its major cities and facilitate travel between the Commonwealth of Kentucky and its neighbors. I-24 passes through southwest Kentucky, while I-71 connects Louisville with southwestern Ohio. I-64 traverses northern Kentucky from east to west. I-65 traverses western Kentucky from south to north, between the Tennessee border and the Indiana border at Louisville. I-75 crosses eastern Kentucky from south to north, between the Tennessee border and the Ohio border at Cincinnati. Kentucky also maintains a network of intrastate parkways.
The state's auxiliary Interstate Highways include I-264 in Louisville, Kentucky's portion of the I-275 loop around Cincinnati, Ohio, and I-471, which links downtown Cincinnati with its southeastern suburbs and I-275.
Kentucky Scenic Routes
The 270-mile trip from Lexington to Hopkinsville via Routes 68 and 150 passes through some of the most scenic back-country of the state. Visitors can tour Lexington's Ashland mansion, built by Henry Clay, and then travel west to the quaint Shaker Village of Pleasant Hill. Located in the "Pennyroyal" region, the Crystal Onyx Caves showcase rare onyx columns, and Mammoth Cave National Park is home to a cave that sparkles with white gypsum crystals. Another stop not to be missed, the Jefferson Davis monument between Russellville and Hopkinsville offers sweeping views of the breathtaking countryside. More information about scenic roads in Kentucky is available on this America's Byways: Kentucky page.
Kentucky Road Travel Resources
For more information about Kentucky's roads and transportation infrastructure, visit the Kentucky Transportation Cabinet website. For Kentucky road traffic conditions, visit the Federal Highway Administration's Kentucky Traffic Information page.
---
Copyright © 2005-2023 State-Maps.org. All rights reserved.
Kentucky-Map.org is a State Maps reference source.

Kentucky Road Map
Kentucky Travel Map - KY Highway Map